03 June 2015
Hangout Highlights – How CBEffects Author Caleb Place Created A Particle Effects Library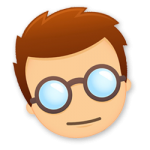 Last week on Corona Geek Hangout 143, we hung out with CBEffects particle effects library author, Caleb Place. If you've never heard of CBEffects before, the library melds ease of use and infinite flexibility to create a vastly powerful engine and a completely new way of creating and managing particle effects. Check out Caleb's GitHub repo for more details.
During the Hangout, Caleb shared how he got started with programming at the age of 12 years old and why he chose Corona SDK and Lua for development. Caleb taught himself the algebra needed to create particle effects. He's now 15 and has written several popular libraries. His story is really inspiring and proves that anyone can create amazing things regardless of age or experience.
Here are clips from Hangout #143. Watch the entire Hangout, or just the pieces that interest you.
Part 1 – Community Announcements
Part 2 – Caleb shares how CBEffects was started.
Part 3 – Caleb shares why he decided to create a library.
Part 4 – Caleb talks about teaching himself algebra.
Part 5 – Caleb talks about his future career goals.
Part 6 – The panel talks about using the players imagination.
While you're at it, be sure to watch Hangout #144 where we talked about improving the performance of touch driven game logic and creating circular dial timers using image masks.
Thank you for watching, listening, and following Corona Geek: