25 May 2015
Corona Geek #143 – Hanging out with CBEffects author Caleb Place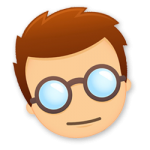 During last week's Hangout we explored the core mechanics of the Ichi game. We covered bumper creation, bumper alignment, physic engine nuances, and one-touch input. As a bonus, the code also included a built in level editor.
Today we hung out with Corona Developer and CBEffects author, Caleb Place to talk about his popular particle effects library. CBEffects melds ease of use and infinite flexibility to create a vastly powerful engine and a completely new way of creating and managing particle effects.
Caleb shared how he got started with programming at the age of 12 years old and why he chose Corona SDK and Lua for development. If you're new to CBEffects, check out Caleb's GitHub repo and have fun creating particle effects.
Let's Play Boom Dot for May!
For May we're playing Boom Dot for a chance to win a $50 gift card. To participate, share a screenshot / picture of your high score on the Corona Geek Facebook page before the June 1st Hangout.
Boom Dot is available in the Apple Store, Google Play Store, and Amazon App Store. Download it and start playing. Good luck!
Replay Last Week's Show
Learning Resources
Thank you for watching, listening, and following Corona Geek: