23 April 2015
Knitty Kitty: Achieving the Impossible in 8 Hours
This guest post comes to you courtesy of Dan Butchko at Playcrafting and Kurt Bieg at Simple Machine. Playcrafting offers workshops, classes, and events for game developers and those aspiring to make games. To learn more and see what they have coming up, check out Playcrafting.com. You can download the game discussed in this post from the Google Play Store.
---
Late one winter day in New York City, we met to plan upcoming game classes for the robust community of skilled game developers that Playcrafting serves. We started to kick around ideas for educational content that would push the boundaries of traditional instruction. There are plenty of "Learn X in a day" classes and workshops, but we realized that none took that next step to show how much goes into the actual release of a game.
That's when we jumped at the idea of doing a one-day workshop where the group designs a game from start to finish, then releases it on the store. As an alternative education provider without the recognition of an established university, it's always a challenge at Playcrafting to show potential students the direct takeaways they will receive from a one-day workshop. We kept thinking about how amazing it would be for students to see their game available for download to the public by the time they got home from the full day workshop.
On the flip side, we realized how groundbreaking this experience would be by showing people just how much work goes into the release of a game, not just on the development side, but also in marketing preparation from creating promotional images to writing the description and uploading the build. Anyone who has shipped a game can tell you that once you're done coding, you're only half done with getting your game in the hands of players. There's all this additional work needed to make your game available to the public, and you can feel blindsided if you don't know about it.
The end result of our planning was our "Release Your First Game: Puzzle Edition!" full day workshop. We somehow came up with the perfect takeaway for students: Design and release a game in one day with your name on it. What better way to inspire newcomers to start making games or re-energize veteran developers?
From the Start
In one very short eight hour session, we transformed the room into a temporary development studio. Kurt led the group to make live design decisions, edit code and assemble promotional material leading up to release of the game on Google Play at the end of the day. To expedite the process of development and release in one short day, we chose to do a match three puzzle game using Corona SDK.
Working off of a shared Game Design Document, attendees contributed ideas and assets throughout the day. The group used a basic match three puzzle game template as a starting point to then create their own game using Corona SDK. The entire class designed concepts that changed the game in completely unpredictable ways. By the end, we were sifting through ideas and prototyping them live. After settling on a brilliant mechanic where only one piece on the board can be swapped, the class came up with a bunch of themes for the game. Ultimately we arrived at cats, 'nuff said. The theme of the game became a cat that can move around the board and swap different colored balls of yarn to make a match of three or more. It wasn't perfect at first and required several rounds of iteration and testing on Corona SDK, but the team kept pushing until we had something that worked.
To the End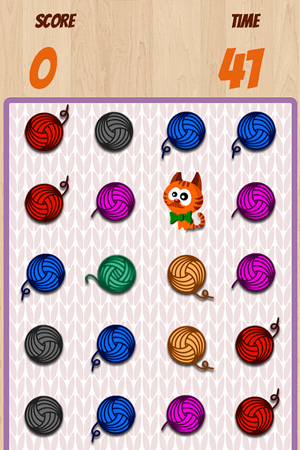 After the game was complete, we had to switch gears and set up the store. With only a few hours left, we generated screenshots, collaborated on a description and came up with too many good names (imagine infinite cat puns). Of course, once "Knitty Kitty" was on the table, nothing else even came close. Students jumped in to apply their own skill sets to assets that were needed. One handled the logo, a sub-group whipped up a great description and others used the character and tile assets to enhance sample screens.
It was a mad dash to the end to get the game built out and published to the Google Play Store, but we managed to pull it off. Lo and behold, by the time 5pm came around, we were ecstatic about the success of our mock dev team and Knitty Kitty was live on the store. Students were thrilled to take photos of the build loading into the store and grab the code so they could head home and continue tweaking it in Corona SDK.
This trial workshop was such a success that we're now doing it once per month using different game genres. It was tremendously empowering for attendees to see how easy and fun it can be to make games. We somehow achieved the impossible — transforming a room of strangers into a team of developers then building and publishing a game in one day. And we would not have been able to do so without the Playcrafting's enthusiastic community or the ease and accessibility of Corona SDK.
---