08 January 2015
Guest Post: Up Front Planning with App Briefs
Today's guest post is by John Luchin, the founder of Classic Interactions LLC and the Author/Illustrator of Lobster Tale.
---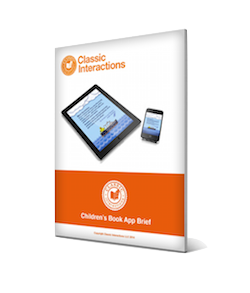 Classic Interactions launched Lobster Tale – Children's Book and Game, on November 6, 2014. The app was developed in Corona and rose to number 5 in the iPhone Paid Book Category. It was also featured in the Family Games Section of the App Store in over 110 countries, including the US.
Classic Interactions grew from a team of one to a team of four during Lobster Tale's development and since this was our first children's book app and the first time we utilized Corona SDK, we were pretty happy with the results. Looking back on everything we did leading up to launch day, I think the most important step we took was to create what I call an App Brief.
What is an App Brief?
Simply put, an App Brief is a PDF outlining all of the content to be included in your app. In our case, we went page-by-page or screen-by-screen of the children's book app. A typical page in our app brief had three main elements: a description of the page/screen, a list of elements (interactions, sounds, animations, and transitions), and a screenshot mockup of the page/screen. Click here to download a copy of our app brief.
Why did we create an App Brief?
After doing the majority of development on our first 5 apps, I knew that I would need help with Lobster Tale. I was already 2 years into writing and illustrating the app content and I wasn't up to the task of developing it on my own. I needed to find a good programmer, and once I found one I needed to be able to easily communicate my vision for the app. I'm way more designer than I am programmer and I'm smart enough to realize that designers and programmers communicate and problem solve differently. The App Brief was a way to bridge this gap.
I connected with Jason Sypolt of Sypolt Systems and from the beginning we were able to cut through a lot of back and forth that usually comes with developing an app because the App Brief was so detailed. A "we can decide on this and fix that later" type of attitude is a recipe for disaster when it comes to app development. Here is what Jason had to say about App Briefs:
"Corona SDK gives us the ability to build interactive apps and iterate and evolve them extremely quickly. But that is all the more reason to have a plan in place before you start. You will work so much faster by slowing down at first to understand the big picture. Be methodical as a developer and diagram and describe every screen as well as everything that happens on every screen. Then fire up 3 or 4 Corona Simulators and some Corona Viewers for different devices and watch your app quickly come to life on all of them at once."
Why do you need an App Brief?
Our main reason for creating an App Brief was communication, but there are many other great reasons to create one for your next project. If you are contracting any part of your project out, an App Brief will make it easier for you to obtain a realistic quote and not run the risk of additional charges. If you have a great app idea and are looking for funding, a simple app mockup coupled with a detailed App Brief will help investors see your vision clearly. If you are working by yourself, it's a great way to get all of your app's functionality on paper and see the project holistically before the first line of code is even written. If you are a designer working with a programmer, or vice versa, as I said above, a good App Brief can bridge the communication gap and work as a roadmap for your next project.
Final Thoughts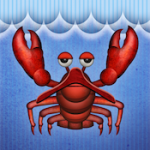 I started working on the draft outline of our next app a couple weeks ago and will definitely be creating a detailed App Brief for all of the reasons listed above. After releasing Lobster Tale, I realized that I missed the programming side of app development, so I am going to jump back in on the next app (I guarantee I'll still need some help) and you better believe I will have my App Brief sitting next to me.
About John
John Luchin is the founder of Classic Interactions LLC and the Author/Illustrator of Lobster Tale. You can email John at jluchin@classicinteractions.com or follow him @classicinteract. Lobster Tale – Children's Book and Game is a universal app available free for limited time in the App Store, Google Play, and the Amazon Appstore.