15 May 2013
Dilbert, the World Famous Engineer, and Corona Labs Partner on a Mobile Game Competition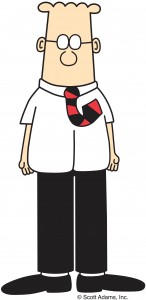 If you can't get enough of the the world famous Dilbert comic strip, you'll love the latest Corona SDK challenge.
Scott Adams, the legendary creator of Dilbert is on the hunt for the hottest mobile game, with the beloved cartoon engineer. We're joining forces with Dilbert and calling on the Corona SDK community to create the hottest game with Corona SDK Starter, Pro or Enterprise. This contest runs May 14 – July 12, 2013 with winners announced on July 19, 2013.
The Dilbert comic strip is known for its humor around the vices, follies and day-to-day shortcomings of the white-collar office working environment. This is your chance to take this world famous character, create a cross-platform game with Corona SDK, and as a grand prize, have an opportunity to demo your creation to Scott Adams.
Our Corona Labs' judging panel of experts are looking for innovation, enthusiasm and overall quality for the winning game. Not to worry, your efforts won't go unnoticed with loads of additional prizes, including year long subscriptions to Corona SDK Pro (worth $599) and iTunes gift cards.
So, head over to Dilbert.com for a little inspiration, and get to coding! You have nearly two months to create something magical, and we're confident the Corona community will make Scott Adams proud. Check out a complete set of rules and guidelines and sign up to compete.
Good luck!